Elmer Bernstein: 50 Years of Film Music
A Tribute to a Legendary Composer at Royal Albert Hall on Sunday, June 18th, 2017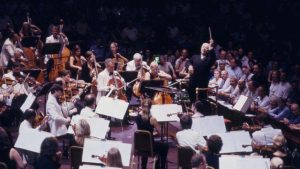 In celebration of the beloved composer's 95th birthday, the Royal Philharmonic Concert Orchestra will be presenting a unique selection from Bernstein's diverse career, including some of his greatest hits along with a few rare works never before performed.
The retrospective will be hosted by Bernstein's son, Peter Bernstein, who will not only conduct the orchestra, but will share personal stories, video clips, and other treasures from the Bernstein archive. He will be joined on stage by screenwriter and director John Landis, who collaborated with Bernstein on seven films, most notably The Blues Brothers, An American Werewolf in London and Trading Places.
For more information about the concert, please visit the Royal Albert Hall website.
Tickets for the concert are also available through the Royal Albert Hall website at: http://www.royalalberthall.com/about-the-hall/news/2016/november/celebrate-hollywood-legend-elmer-bernstein-with-a-magnificent-new-show/
Reserve the date: Sunday, June 18th, 2017!