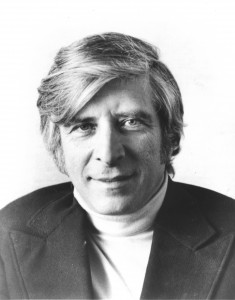 Elmer Bernstein's life could have been set to music, and for many, it was. Affable, fearless and genuine, the man behind the music that has already surpassed the test of time was a man with a golden touch. His contribution to film music is celebrated. His contribution to new generations of aspiring musicians continues. His exuberance for life is still felt.
In the history of film music, Elmer Bernstein (1922-2004) is among the iconic and the legendary. With a career that spanned an unparalleled 5 decades, he composed more than 150 original movie scores and nearly 80 for television, creating some of the most recognizable and memorable themes in Hollywood history: the driving jazz of The Man With the Golden Arm, the rousing Western anthem of The Magnificent Seven, the lyrical and quietly moving music of To Kill a Mockingbird, and the jaunty, thumb-nosing march of The Great Escape. His impact is still felt, and his presence still missed, by moviemakers and moviegoers alike.
The Early Years
World War II intervened, and the young composer got his first taste of writing music for drama by working on radio shows in the Army Air Force. When the war ended, he returned to the highbrow world of classical piano, but continued to dabble in radio scoring for the United Nations and such legendary radio dramatists as Norman Corwin. ??His break came in 1950 when writer Millard Lampell, an old service buddy, convinced producer Sidney Buchman to hire the novice composer on a football movie he had written. Saturday's Hero was made for Columbia, which released the film in 1951.
The next year, his music for the Joan Crawford thriller, Sudden Fear, attracted critical attention. However, by 1953, he found himself virtually unemployable, reduced to doing B-movies like Robot Monster and Cat Women of the Moon. He soon learned that for his involvement with left-wing causes, he had been "graylisted"; and although he was never a member of the Communist Party, his having written music reviews for the "red" paper Daily Worker in the late '40s, and having been associated with known party members, was enough to make the list.
A Career is Born
Bernstein wound up working as a rehearsal pianist for the ballet sequences in the film version of Oklahoma! and working with Danny Kaye's wife, Sylvia Fine, jotting down her tunes for The Court Jester at Paramount. A studio music executive, taking pity on Bernstein, introduced him to Cecil B. De Mille, who was then shooting The Ten Commandments and who needed ancient-sounding music for dances in the film. Eventually, Victor Young—who had originally been signed to write the dramatic music—dropped out due to health reasons, and DeMille replaced the ailing composer with Bernstein.
During the year and a half that he was working on The Ten Commandments, he also composed the groundbreaking jazz score for The Man With the Golden Arm for director Otto Preminger.
One of Bernstein's most enduring compositions that's still in use today (although rarely credited to him) is the fanfare for the National Geographic specials of the 1960s, '70s and beyond:
Beyond Film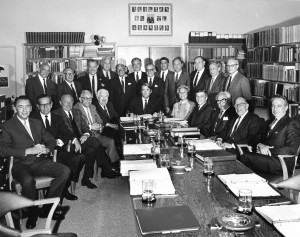 Throughout his career, Bernstein took on a number of leadership roles, including stints as vice president of the Academy of Motion Picture Arts & Sciences, president of the Young Musicians Foundation, president of The Film Music Society and, most significantly, a decade-long tenure as president of the now-defunct Composers and Lyricists Guild of America during the 1970s—where he fought a lengthy, expensive and ultimately futile battle against the studios in an effort to restore composers' rights to their music for movies and TV.
He was also avidly interested in educating young people: giving back to his childhood school, Walden, in New York City; helping to establish the Young Musicians Foundation; and regularly conducting the Valley Symphony Orchestra. Determined to help promote the great legacy of Hollywood film music, Bernstein invested his own money in the "Film Music Collection," conducting a series of recordings of classic scores and issuing a quarterly journal on the subject.
A Funny Thing Happened… And Then Another
Bernstein's career took a surprising turn in 1978, thanks to a call from his son Peter's old school chum, John Landis. Landis, then 27 and a film director, asked Bernstein to score his raucous college comedy Animal House starring John Belushi.
But Seriously…
The Spirit of Exploration
50 Years of Making a Difference
Asked about surviving the changes in films and filmmaking over the years, Bernstein said, "It doesn't feel like 50 years." He acknowledged, however, that versatility was a big factor in his longevity—scoring a historical epic one month, tackling a western the next, then an intimate drama. "I think I have demonstrated an enthusiasm for change, and that's fairly infectious," he added. "I would hope that some of the energy and joy that exists in some of the work would communicate years and years from now."
He reflected on his life and work in a 2001 interview with journalist and author Jon Burlingame:
On August 18, 2004, surrounded by family at his home in Ojai, California, Elmer Bernstein lost his battle with cancer. He was 82. His memorial service, held in October at Paramount Pictures, saw an attendance of over 300 friends, family members, and colleagues, but he was mourned by millions. The world had lost one of its most celebrated and beloved composers, but the music lives on, for new generations, in live concerts, film, television, and the internet.
—By Jon Burlingame