Elmer Bernstein's "Film Music Notebook"
Long-awaited Journal Available For Purchase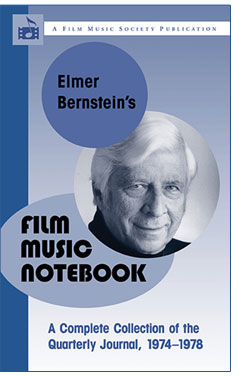 Elmer Bernstein's Film Music Notebook is the re-issue of an historic quarterly journal comprising thirteen installments, originally published by Bernstein himself between 1974 and 1978.
Bernstein's Film Music Notebook features interviews with notable film composers (conducted by Bernstein himself) in addition to score analyses, biographical sketches, articles on historical and contemporary music topics, and more. This 579-page hardcover, filled with illustrations and photographs, includes a brand-new introduction by Bernstein with a foreword by noted journalist Jon Burlingame.
This special release is available only through the Film Music Society.