The Elmer Bernstein Collection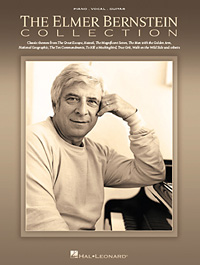 Unlike any previously available compilation, The Elmer Bernstein Collection is a songbook anthology that includes all of the classic themes from the composer's 50-plus years in films and television.
This 160-page book contains 41 themes including "The Magnificent Seven," "To Kill a Mockingbird," "Walk on the Wild Side," "The Man With the Golden Arm," and many more. The arrangements, many of them new, are suitable for piano, vocal and guitar.
Read the Introduction by Patrick Russ included with the collection…
Purchase online at Hal Leonard Online or Hollywood Sheet Music or check with your local music store.