"Elmer Bernstein, Film Composer"
An Authorized Biography by Peter M. Bernstein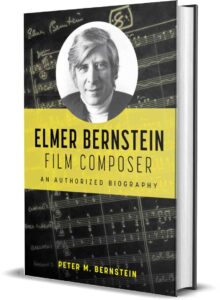 With an illustrious career spanning 54 years, Elmer Bernstein the composer has rightfully achieved the status of "legendary." His many landmark scores, from The Magnificent Seven and To Kill a Mockingbird to The Great Escape and Ghostbusters, are as recognizable as they are revered across the generational divides and people worldwide. Yet while most film-music aficionados are familiar with Bernstein's impressive repertoire that spans a swath of musical genres, few know the personal struggles, professional battles and the vividly colorful life that underscore Bernstein the individual.
In Elmer Bernstein, Film Composer, Bernstein's oldest son, Peter M. Bernstein, reveals a life lived fearlessly and passionately from an intimate, behind-the-scenes perspective. For anyone interested in the man, the composer, and the persistent drive needed to achieve and maintain success in the constantly challenging and competitive industry known as Hollywood, Elmer Bernstein is a true American story.
For more information, please visit the Rowman & Littlefield website. The hardcover book is currently available for pre-order, with the eBook coming soon.