Bernstein's Guitar Concerto Presented at the Hollywood Bowl
Works by Elmer Bernstein and Alex North hold their own with "Scheherazade" in the "Hollywood Goes Orchestral" program
Josef Woodard, Special to The Times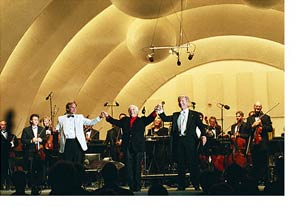 Attaching a "Hollywood Goes Orchestral" tag to Tuesday's concert by the Hollywood Bowl Orchestra might be accurate, but it was also misleading. In a program in which Elmer Bernstein's engaging Concerto for Guitar and Orchestra–written for the evening's featured soloist, Christopher Parkening–had its Los Angeles premiere, and a suite from Alex North's "Cleopatra" score had its U.S. premiere, music-for-its-own sake was the thing. In this context, the second half's competent version of the Rimsky-Korsakov warhorse "Scheherazade" seemed like dessert, for a change.Joaquin Rodrigo's "Concierto de Aranjuez" looms mightily over the slim guitar concerto field, and others have braved the form, including jazz guitarist John McLaughlin, who premiered his concerto with the Los Angeles Philharmonic in 1985.
Count Bernstein's new work as among the important new entries to the repertory. The three-movement piece starts starkly, with the guitar's open strings, and thickens its plot nicely. Propelled by a musical language that is romantic and often Iberian in tone, referring to the Rodrigo (especially in the second movement's guitar cadenza), it also taps into Bernstein's urbane yet warm compositional voice. Parkening played its mellow melodic segments and fervent flamenco-esque strumming with his usual focused musicality.
For an encore, Parkening retuned to a C-sharp chord for Carlo Domeniconi's fascinating solo work, "Koyunbaba," whose languid rubato introduction yields to a fast, hypnotically rippling effect.
Conductor John Mauceri arranged "Cleopatra, a Symphonic Portrait," a wonderful case study in retooling film music for the concert stage. North (1910-91), still an underrated figure in film music annals, was an adventurous sort with a knack for lovely tunes, as with "Unchained Melody" and "Love Theme From Spartacus." Both facets emerged here, with ardent love themes stitched to polytonal tensions and microtonal moments, in an altogether beautiful mesh. Hollywood conquered Cahuenga Pass.
Copyright 2002 Los Angeles Times