Sing With Us: Da-da-da-DAH-da . . .
National Geographic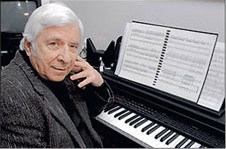 It's hard to avoid the music of Elmer Bernstein. Since his first film score for Saturday's Hero in 1951, Bernstein has had an astonishingly prolific career, composing for films as diverse as The Magnificent Seven in 1960, Ghostbusters in 1984, and Far From Heaven in 2002. His music also pops in the fanfare that has signaled the beginning of National Geographic Television programs for more than three decades.
Bernstein says he doesn't remember which Society TV Special he was scoring—we found out that it was 1966's "Voyage of the Brigantine Yankee"—when a producer was struck by a particular musical phrase. "They asked me if it would be OK to make it a permanent theme, and I said yes," he says. And so it became.
Bernstein, now 80, has earned 13 Academy Award nominations and continues to garner critical acclaim. He won the Oscar for best original score in 1967 for Thoroughly Modern Millie.
Reprint permission courtesy of National Geographic Society. All rights reserved.