Elmer Bernstein: 50 Years of Film Music
June Concerts Celebrate the Legendary Composer's 95th Birthday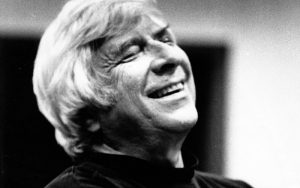 In a celebratory tribute to what would have been Elmer Bernstein's 95th birthday, two concerts are on the calendar, both hosted and conducted by Bernstein's son, Peter Bernstein:
National Concert Hall, Dublin, Ireland | June 14th, 2017
Some of the composer's most memorable themes are on the venue, along with a number of scores recorded in Dublin.
Royal Albert Hall, London, England  | June 18th, 2017
A unique selection from Bernstein's diverse career will be presented, including greatest hits and a few rare works never before performed.
In addition to conducting both concerts, Peter Bernstein will be sharing personal stories, video clips, and other treasures from the Bernstein archive. Screenwriter and director John Landis, who collaborated with Bernstein on seven films, most notably The Blues Brothers, An American Werewolf in London and Trading Places, will be joining Bernstein on stage at the Royal Albert Hall concert.
For more information about the concerts, please visit their respective websites: