"Birdman of Alcatraz" Released to Limited-Edition CD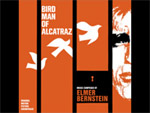 It was 45 years ago that Elmer Bernstein's stirring and sensitive score for "Birdman of Alcatraz" evoked audiences' compassion for a convicted murderer serving a life sentence in solitary confinement. Now, new audiences—and generations—can experience what is considered to be among Bernstein's most important works.
Limited to 3000 copies, this first-time commercial CD release from Varèse Sarabande features complete versions of cues originally abbreviated in the film, as well as 11 additional cues never heard in the final cut.
For more information, or to purchase, please visit the Varèse Sarabande website.
Cover Art by Bob Peak