"By Love Possesed" Released in Limited-Edition CD Set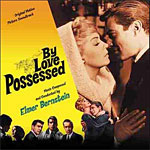 There isn't a film genre that Elmer Bernstein hasn't enriched with his exceptional versatility and consummate originality: western, drama, comedy, action-adventure, epic, documentary, sci-fi, and yes, even romance. Although "By Love Possessed (1961)" never achieved "classic" status, it is, however, classic Bernstein. Set to a story that revolves around romantic quest, conflict and acquisition in sumptuous, sprawling New England, the score captures all of it with sweeping love themes, boisterous action, pastoral beauty, buoyant humor, and the insinuation of pent up passion. It is Bernstein after all!
For more information, to purchase, or to hear a selection of audio, please visit the Screen Archives website.