"Guns of the Magnificent Seven" Released in Limited-Edition CD Set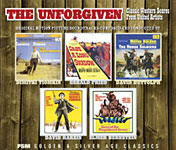 In this second sequel in the "Magnificent Seven" series, starring George Kennedy, James Whitmore, and Joe Baker, the famous Bernstein theme is reprised in this adaptation by Bernstein's orchestrators, Leo Shuken and Jack Hayes, who arranged the first two "Magnificent Seven" films. This never-before released complete score was conducted by Bernstein in London.
"The Unforgiven: Classic Western Scores from United Artists" is a limited-edition 3-CD set featuring the complete scores of five western scores from the film library of United Artists. Only 1500 copies are available.
For more information, or to purchase, please visit the Screen Archives website.