Intrada Releases "Cahill United States Marshal"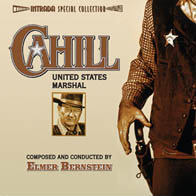 An iconic John Wayne western brought to larger than life by a powerful Elmer Bernstein score is surely a must for Bernstein fans and film-music aficionados alike. Wayne's U.S. marshal figure, Cahill, is painted with a bold orchestral theme incorporating big brass and a strong undercurrent of the rugged west, while gripping action sequences conjure the imposing presence and gruff persistence of Wayne's character in pursuit of a gang of outlaws. Enigmatic and stirring moments suggest the character's greater depth and inner conflict, and the unexpected Charlie Rich vocals (music by Bernstein, lyrics by Don Black) add an aspect of quiet thoughtfulness to the work as a whole.
This new Intrada release is more than just a re-release: brand new stereo mixed from the original multi-track recordings are as clear and vibrant as if recorded today. Scene cues never before heard, the Original Warner Bros. artwork and color stills, complete cue assembly details and liner notes by Jeff Bond complete this very special collection.
For more information, to purchase, or to hear a selection of audio, please visit the Intrada website.