"The Bridge at Remagen" Released to Limited-Edition CD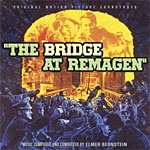 Long thought to be lost, the complete score to "The Bridge at Remagen" (1969) features Elmer Bernstein's patent mastery of saying the most with the least in this classic WWII epic directed by acclaimed documentarian David L. Wolper and starring George Segal, Ben Gazzara, and Robert Vaughn. Sought by fans of the genre and the composer alike, "The Bridge of Remagen" brings to life and to light the human side of war — and its high cost — amidst and alongside the traditional scenes of combat. Bernstein's blend of large, dramatic cues with sensitive, intimate renderings belies the brevity of the score, which totals less than a half-hour of music for a two-hour film.
This premiere, limited-edition release is soley thanks to Bernstein having kept the 1/4″ monaural tape of the recording session, which was used to recreate the majestic and stirring work of this rare classic. And although a fair amount of audible distortion is present, the end result is the posterity of a great score by one of the world's great film composers.
For more information, or to purchase, please visit the Screen Archives website.