The Unprecedented 4 CD Box Set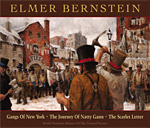 What do "Gangs of New York," "The Journey of Natty Gann," and "The Scarlet Letter" all have in common? They're all among the unused scores of Elmer Bernstein, and they're all for the first time available — and together — in a single collection of four CDs.
His penultimate film score, and one he most ardently wanted released, "Gangs of New York" is set to Martin Scorsese's mid-19th century period piece and is Bernstein at his boldest, with orchestral brass and Celtic undertones all colliding to underscore the seething hostilities and bellicose atmosphere of rivaling cultures in a lower-Manhattan neighborhood.
"The Journey of Natty Gann" is pure Disney with Bernstein at the helm, delivering a bounty of melodic layers and thematic explorations that travel the gamut from adventure to mis-adventure, through despair and discovery. A treat and a delight amidst a double-dose of hard-hitting Bernstein.
Haunting vocals, soaring orchestrations, a sense of darkness within the light… Bernstein's score to "The Scarlet Letter" reaches into the depth of Nathanial Hawthorne's classic novel in which passion rivals the Puritan ethic and a woman's fierce independence burns more brightly than the red insignia emblazoning her sin.
This unique opportunity to own and enjoy what only a relative few have heard before is thanks to Walt Disney Pictures and the Elmer Bernstein Estate. While these scores never made it to the theatre, they are undeniably worthy of an appreciative audience, who won't need the movies to recognize the greatness of the music written for them.
This 4-CD set, featuring a Matthew Joseph Peak painting on the cover, is limited to 2500 copies, and is available only through Varèse Sarabande's CD Club. For more information, to purchase, or to hear a selection of audio, please visit the Varèse Sarabande website.