Two Bernstein Westerns Released in One Limited-Edition CD Set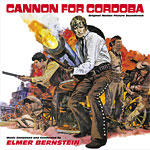 In "Cannon for Cordoba (1970)," a big-action western directed by Paul Wendkos and revolving around the turbulent Texas-Mexico border conflicts in 1912, Bernstein pulls out all the stops with a powerful, and yes, explosive score that includes "Elmer Bernstein's Mariachi Fiesta," 10 tracks featuring Bernstein's original adaptations of familiar fiesta suites.
In "From Noon Till Three (1976)," Charles Bronson sheds his usual tough-guy image to reveal an unexpected comedic side in this film by Pulitzer Prize-winning playwright and director Frank D. Gilroy. Little surprise is Bernstein's alacrity with winsome wit within the western genre. This is a unique and entertaining score that is charming and sensitive, with moments of delicate beauty and all the fun of a raucous saloon. The CD includes the Golden Globe-nominated song—"Hello and Goodbye"—by Bernstein with lyrics by Alan and Marilyn Bergman. Bernstein and Alan Bergman introduce the song in a rare cameo.
For more information, to hear a selection of audio, or to purchase, please visit the Varèse Sarabande website.