World CD Premiere Strikes "Gold"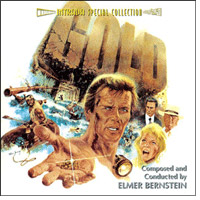 Ever wonder what Elmer Bernstein would've done for a James Bond movie? Now's your chance to find out in this world premiere release of the "Gold" soundtrack for Peter Hunt's action adventure starring "007" vets Roger Moore, Susannah York, and Ray Milland. Start with a brazen title song—written in collaboration with famed "Bond" lyricist Don Black—and follow it with beefy action, sweeping melody, signature jazz, ruthless suspense, and glittering cues. Intrada CD presents the complete program from the generous-length 1974 ABC label stereo LP, prepared from mint-condition original album masters housed in UMG vaults. Elmer Bernstein conducts. The Intrada Special Collection release is limited to 3000 copies!
For more information, to purchase, or to hear a selection of audio, please visit the Intrada website.