Back In Time…1985 At The Movies
New compilation CD from Varèse Sarabande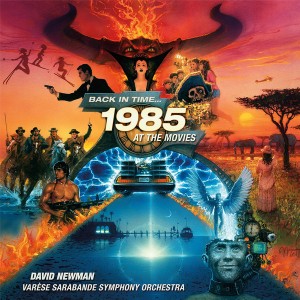 This newest release from Varèse Sarabande is a fun, full-bodied romp "back to the future" to 1985, an iconic year for film music that includes over six and a half hours of newly recorded favorites conducted by David Newman and featuring everything from hit songs to complete CDs, among them Elmer Bernstein's Spies Like Us and The Black Cauldron.
"Back In Time…1985 At The Movies" is a 6-CD set that also includes a deluxe LP package that features an original cover painting by Matthew Joseph Peak (A Nightmare on Elm Street artist) and a 24-page booklet with extensive liner notes by album producer Robert Townson along with exclusive photographs from the premiere Varèse Sarabande Symphony Orchestra recording sessions held on the historic Newman Scoring Stage at 20th Century Fox.
For more information or to purchase, visit the Varèse Sarabande website.