An encore release of the 1985 original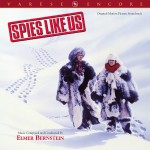 In Spies Like Us, a John Landis comedy romp turned cult classic from 1985, Elmer Bernstein delivers a score that certainly has its appropriately zany over-the-top moments, but also delivers on the rich, expansive themes that makes a Bernstein score a Bernstein score. From jazzy to resplendent to a climactic fanfare, this is a fun listen that will conjur many of Bernstein's most memorable themes.
This release is currently available only from the Varèse Sarabande website, and is limited to 1000 copies.