A sizzling compilation album by Big Band de Canarias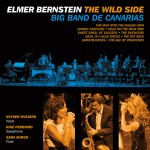 "Elmer Bernstein: The Wild Side" is a new recording of Bernstein favorites by acclaimed big band, Big Band de Canarias, from Tenerife in the Canary Islands. Standards and special arrangements from Johnny Staccato, The Rat Race, The Age of Innocence, Ghostbusters and Devil in a Blue Dress are covered with a jazzy big-band flair that includes the vocal talents of Esther Ovejero and some stunning flute solos by Sara Andon.
For more information, to purchase or to hear a selection of audio, please visit the Varèse Sarabande website.