The Ten Commandments – 6 CD Box Set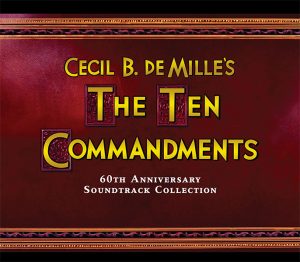 Elmer Bernstein's memorable and momentous masterpiece for Cecil B. Demille's epic blockbuster, "The Ten Commandments," can finally be experienced in its entirety, intact and uncut and expertly restored in this 6-CD release by Intrada.
It took several years and the work and contributions of more than several studios and production companies to realize this epic release that includes a number of sequences edited from the finished film, along with a truly rare discovery just recently unearthed: a 12-minute piano demo of Bernstein introducing and playing his major themes for DeMille at the start of the scoring process. Additional bonus material includes 40 minutes of never-before-heard alternates and unused music, and even trailer cues.
For the film-score purist, the fourth and fifth CDs each present the original one-hour soundtrack as released by Dot Records: the first in mono in 1957, and the second release in 1960 to meet the growing demand for a stereo version. The latter was conducted by Bernstein himself in order to maintain as much consistency to the original as possible.
The final CD presents the premiere of the 1966 United Artists stereo album recorded by Bernstein and featuring new arrangements by his long-time orchestrators Leo Shuken and Jack Hayes.
This impressive package is accompanied by a lavishly illustrated 60-page booklet designed by Joe Sikoryak and includes color reproductions of various album cover designs, production and scoring-session notes by Frank K. DeWald, and even musician rosters, cue assemblies and pre-production artwork.
For more information, listen to select track excerpts, and to purchase, please visit the Intrada website.